Positive Pressure Testing Booth Supports COVID-19 Efforts
When Taiwan saw a sudden COVID-19 surge this May, the upgrade to a nationwide alert Level 3 (of a four-tier system) demanded a prompt scale-up of testing capacity. To support swab collection efforts, ITRI ramped up production on its positive pressure testing booths to assist health workers around the island. Several booths were built within 48 hours at key rapid testing stations, with the assistance of local component manufacturers and hospitals.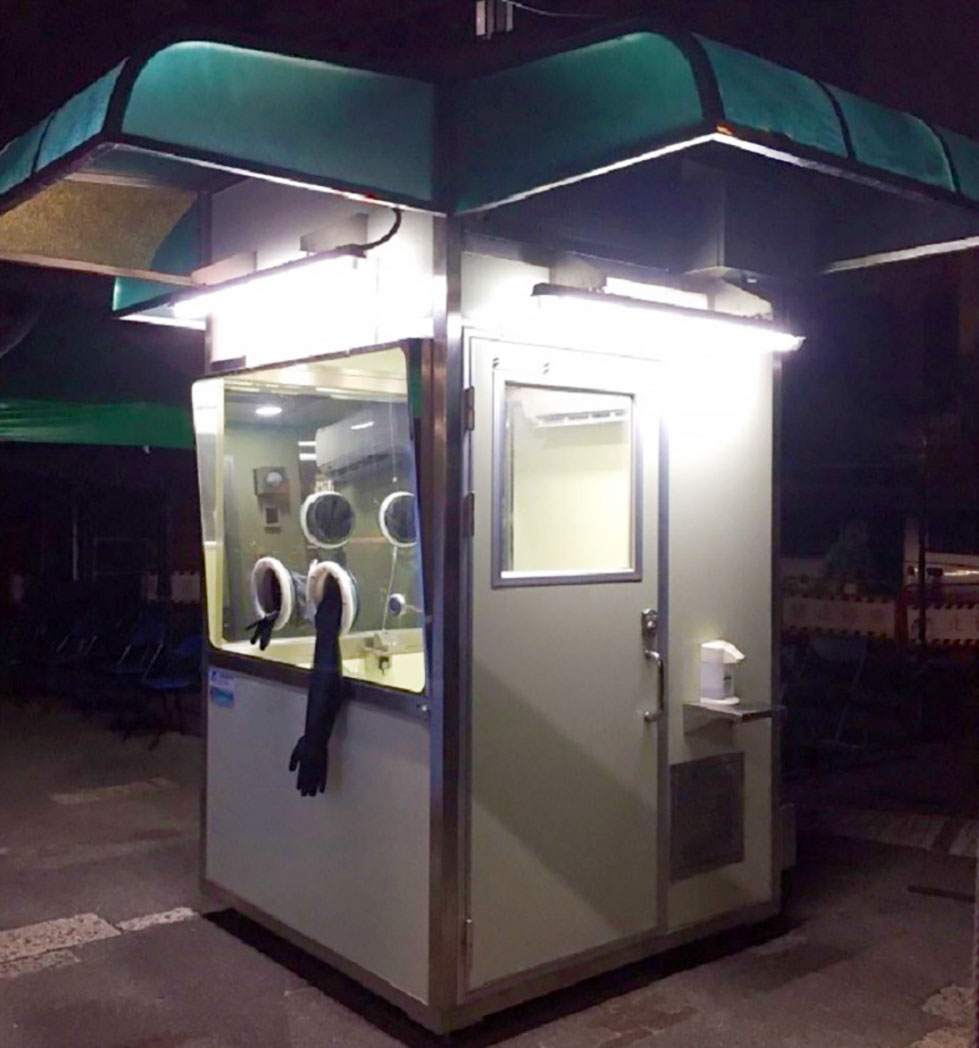 When the local outbreak of COVID-19 began in mid-May 2021, ITRI staff rushed to build testing booths overnight.
The testing booth was first developed in 2020 for alleviating the infection risks of medical workers when they collect nasal/throat swabs. This booth features safe design, high sample collection efficiency, energy-saving and comfort, ultra-cleanliness, and quick assembly. Working with the National Taiwan University Hospital Hsinchu Biomedical Park Branch and Mackay Memorial Hospital Hsinchu Branch during the designing phase, ITRI conducted field tests at these two hospitals. This year, the booth came into full play to help Taiwan overcome the pandemic crisis.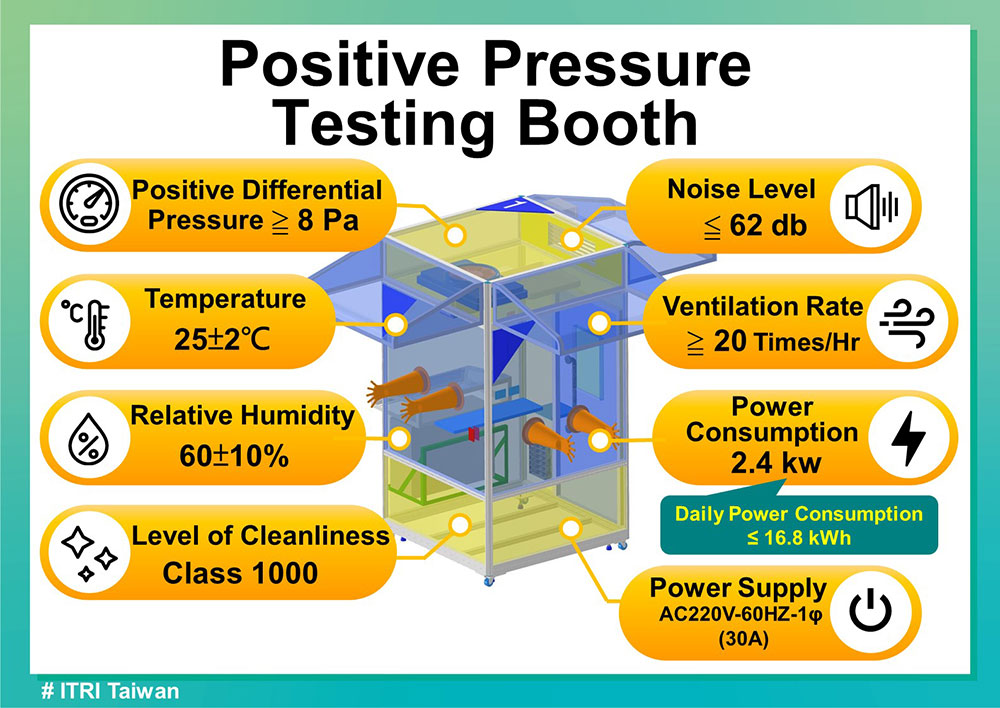 ITRI's positive pressure testing booth features.
Other than its quick assembly feature, the testing booth's two-sided design allows a high sample collection rate of at least 12 individuals per hour, and in urgent situations up to 240 samples per day. This suits the need for massive rapid testing, e.g. at the testing stations set up for science park employees or COVID-19 hotspots.
With the class 1000 level of cleanliness and airtight positive pressure technology of 10 Pascals (Pa), health workers inside the booth do not need to wear uncomfortable and cost-prohibitive PPE. Meanwhile, the booth is fitted with an air-conditioner, providing a safe and comfortable environment for medical workers. The built-in smart energy-saving technology also lowers daily power consumption to less than 16.8 kWh and daily electricity costs to below US$2.
After fast deployment in the hardest-hit areas in Taipei, the testing booths soon attracted the attention of the public and received many inquiries for purchases or donation by businesses, charities, celebrities, and legislators. Hundreds of testing booths have been set up and launched in testing stations around the island since the May outbreak, showcasing the design's effectiveness in time-demanding situations.
ITRI's Positive Pressure Testing Booth was acclaimed for assisting in COVID-19 efforts amid the recent pandemic outbreak in Taiwan. The testing booth can also be integrated into a one-stop service that includes both sampling and testing in order to spot any cluster infection quickly.
Under the severe circumstances and challenges of the COVID-19 pandemic, ITRI put its technology solutions into practice during Taiwan's time of need. ITRI believes that this tech innovation can bring its benefits to other places when needed as it can boost the COVID-19 testing efficiency while ensuring the safety of health workers.