Arts@ITRI Residency Project 2020-2021
The 2020-2021 Arts@ITRI residency project opened the doors to co-creation between ITRI's laboratories and artists interested in exploring the union of art with technology. This year marks the second edition of the program. Projects being exhibited include Wei-Hsuan Huang's "Modernological Urbanscape," Jeff Hsieh's "Cyborg Eros," Chien-wei Liu's "Jinshan No.14," and Jiun-ting Lai's "HAOS Human and inhuman. The in-between." These projects were produced in conjunction with several of ITRI's laboratories, testing how the technologies of 3D printing, AI image recognition, circuit design, ultra-fine LED display, transparent screens, and new media and sensing factored into dance theater, super-human perception, VR scenes, and the restoration of cultural artifacts.
This inter-ministerial, inter-disciplinary cooperation project has been carried out by ITRI with the support of the Ministry of Culture and the Smart Transparent Display VR Integration System Development Project under the Ministry of Economic Affairs' Department of Industrial Technology. It is hoped that combining state-of-the-art technology and art will not only hone the technological capabilities of artists, but also challenge the limits and imagination of researchers in the application of technology.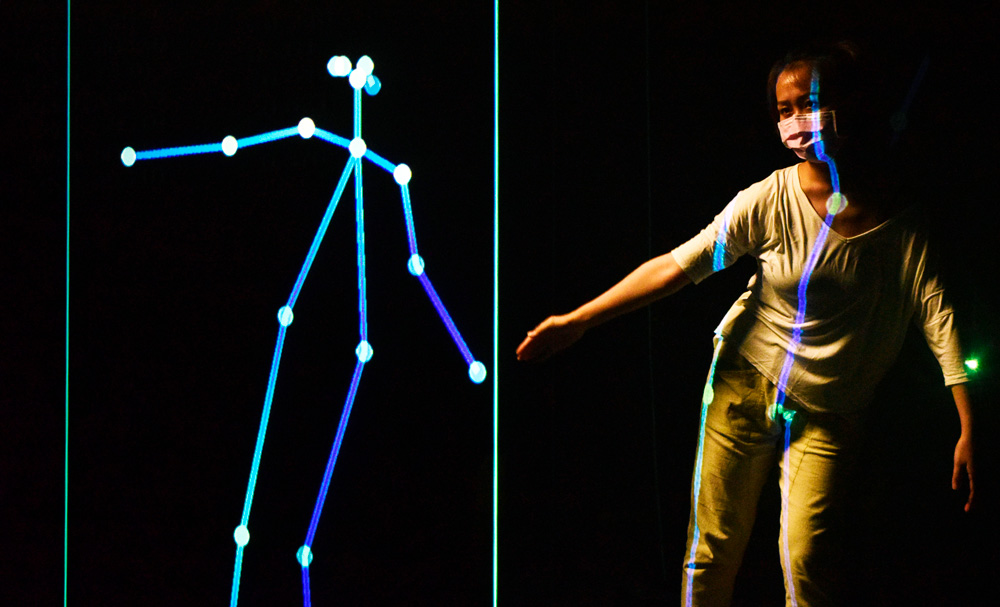 Jeff Hsieh's "Cyborg Eros" features a performer from Anarchy Dance Theatre dancing with an AI before a transparent display.
In Wei-Hsuan Huang's project, the artist uses 3D scanning and digital imagery design to shoot images in the first person, calculated and reconstructed spaces, and employs imagery measurement methods to reconstruct what was experienced, thereby exploring how 3D data can be re-presented and re-experienced. ITRI developed sports physiological perception hardware & software systems, AVMR, and integrated audio-visual applications. These technologies assisted Huang in introducing digital avatar-related technology applications to form an innovative model for experiencing virtual space. By interacting and touching objects via the avatar while receiving feedback to the senses, Huang hoped to blur the boundaries between the virtual and the real world, probing the idea of consciousness.
Jeff Hsieh's work employs different analytical systems to analyze a dancer's posture, and it explores how AI recognizes the human body, its principles, applications and crises in the future era of cyborgs. Hsieh's work forms a complete "smart image analysis engine." He experimented with multi-body combination modeling to simulate a futuristic new body experience. The dislocation and grafting of various limbs of the dancers, along with the integration of technology images, adds to the physical texture of a cyborg.
Chien-wei Liu's Jinshan No.14 project explores how scanning and 3D printing can be applied to the restoration of historical relics, and addresses the ambiguity between restoration and creation. Liu's work is a cross-domain cultural conservation and technology creation. Working with ITRI's researchers, he used 3D scanning & printing and experimental materials to transform the appearance of the object, attempting to construct a virtual and real space, while discussing the value of art and cultural content.
New media artist Jiun-ting Lai collaborated with several ITRI laboratories in the creation of the tongue-sense electrostatic machine circuit board design 1.0, human augmented organ carrier, and tongue-sense electrostatic machine circuit board design version 1.5. Through these experimental projects, the artist attempted to expand human consciousness. By creating the tongue-sense electrostatic machine as a wearable organ, Lai hopes to escape from the control of capitalism, especially the image made by social media and algorithms.
The four teams also discovered the differences between artistic and technological experiments during the course of cooperation. In the pursuit of precision, for example, artists sought precise expression, while technology developers focused on the pursuit of data. This honed understanding, experimentation, inclusivity, and creativity by individuals from both sides, while touching on their respective areas of expertise. Both artists and researchers had the opportunity to experience the convergence of technology and art, driving new outcomes and possibilities.