ITRI and DuPont Jointly Inaugurate Semiconductor Materials Laboratory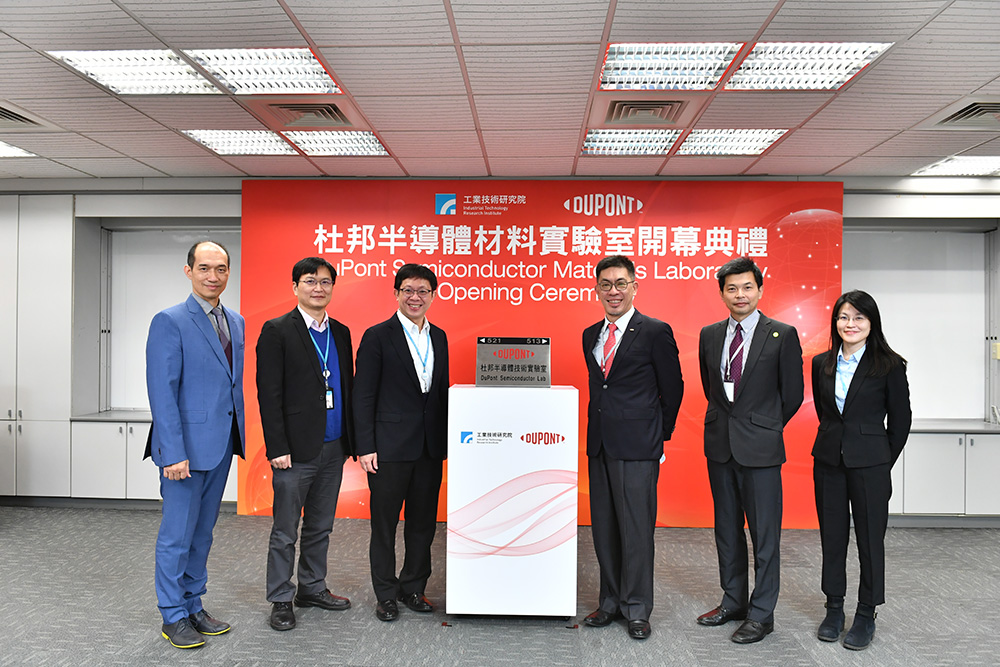 VP and General Director of ITRI's Electronic and Optoelectronic System Research Laboratories Chih-I Wu (third left), DuPont Taiwan President Dennis Chen (third right) and their colleagues inaugurated a new semiconductor materials laboratory at ITRI's headquarters.
ITRI and DuPont Electronics & Imaging (DuPont) celebrated the opening of a new semiconductor materials laboratory in Hsinchu, Taiwan on January 25, 2021. The DuPont Semiconductor Lab was established to stay close to the semiconductor industry in Taiwan.
"Bringing together ITRI's semiconductor-related technical strength and DuPont's expertise in materials, this laboratory in ITRI's vicinity will enable closer exchanges between the two organizations to meet the immediate needs of Taiwan's semiconductor and IC substrate industries," said Dr. Chih-I Wu, VP and General Director of ITRI's Electronic and Optoelectronic System Research Laboratories.
Dr. Wu stressed that ITRI has long invested in semiconductor research and development and has a solid foundation in the fields of electronics and optoelectronics, advanced packaging processes, chemistry and materials. With the support from the AI on Chip Program of Department of Industrial Technology (DoIT), Ministry of Economic Affairs (MOEA), ITRI will expand investment in advanced equipment and technology, heterogeneous integrated packaging experiment platforms and diversified design, manufacturing processes and prototype production services.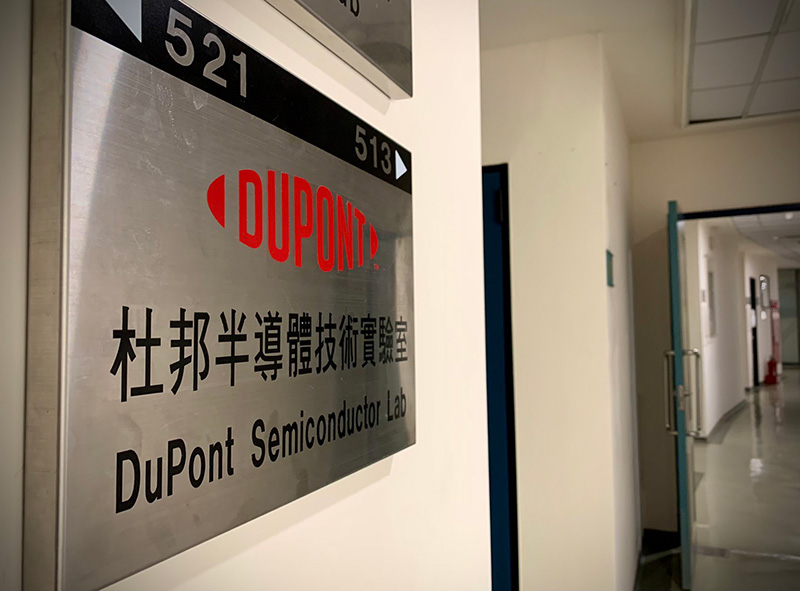 The new DuPont Semiconductor Lab was set up in ITRI to stay close to the semiconductor industry in Taiwan.
DuPont, on its part, has been conducting business in Taiwan for more than 50 years and has grown alongside Taiwan's industrial development, especially in the electronics industry.
"DuPont's investment in semiconductor technology and manufacturing centers in Taiwan serves as our hub in Asia Pacific to promote advanced semiconductor technologies globally," said Dennis Chen, DuPont Taiwan President. "Over the years, we have made efforts in strengthening technological breakthroughs, terminal applications and supporting the strategic technology roadmap in Taiwan. The inauguration of this laboratory marks another important milestone as we continue to enhance innovation and R&D capabilities in Taiwan."
Added Rob Kavanagh, global business director, DuPont Advanced Packaging Technologies, "DuPont is committed to the development of advanced materials in support of the increasingly complex packaging technologies. We have seen positive outcomes from our past collaboration with ITRI and look forward to further leveraging each other's competencies and experience for our customers and Taiwan's semiconductor industry."
The launch of the DuPont Semiconductor Lab is creating a win-win situation as it will further enhance the two parties' collaboration on semiconductor material R&D and accelerate pilot testing and commercial viability to support industries in pursuit of the next generation of semiconductors.