Promoting Development of Next-Generation Semiconductors with Tokuyama
Strong demand in the 5G, IoT, and automotive electronics markets, along with the thriving development of AI, is driving the trend of miniaturization in the semiconductor industry. ITRI and Tokuyama, Japan's renowned semiconductor chemical materials manufacturer, are to jointly develop quality detection technology for semiconductor materials, thereby rapidly screening out impurities and enhancing production quality. It is hoped that the cooperation will create the foundation for the semiconductor industry to produce products with even higher quality and specifications, thus enabling new-generation smart applications.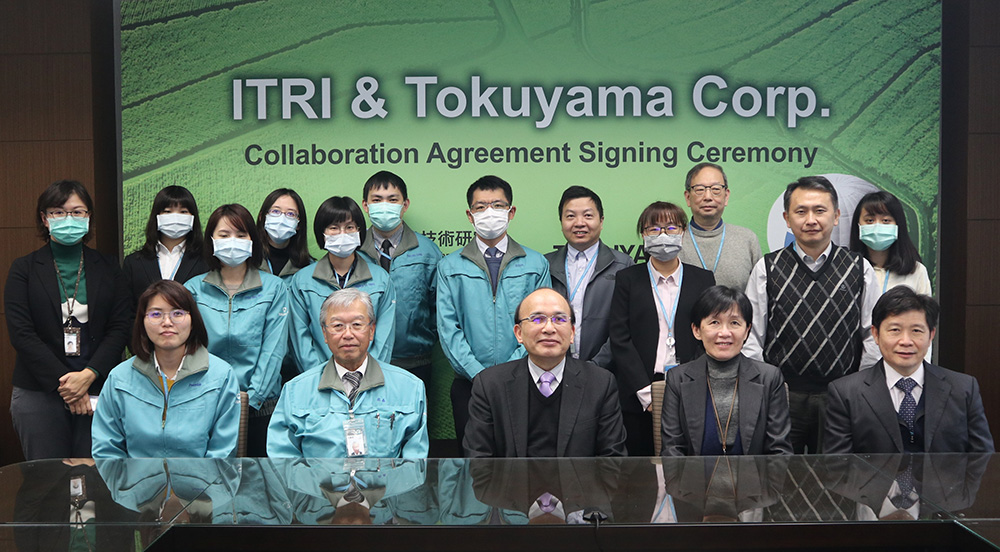 ITRI and Tokuyama held a collaboration agreement signing ceremony to announce their joint development of quality detection technology for semiconductor materials.
Dr. Tzeng-Yow Lin, General Director of ITRI's Center for Measurement Standards, commented that ITRI and Tokuyama started collaboration in 2018. "It is Taiwan's advantages in semiconductor manufacturing and ITRI's excellence in semiconductor nano-related detection technology that attracts Tokuyama to work with ITRI on optimizing material detection in the wafer manufacturing process," stated Dr. Lin. "The two parties hope to provide Taiwan's semiconductor makers with advanced quality control technology to lower the product defect rate in the process of miniaturizing semiconductor components. Meanwhile, this cooperation will expand the use of ITRI's measurement technology in the international semiconductor market," he added.
Tokuyama Managing Executive Officer Director Fumiaki Iwasaki mentioned that over a century since its establishment, Tokuyama has branched out into a wide range of businesses, including chemical, specialty, cement, and medical products. Presently, in response to the needs of the semiconductor industry, Tokuyama and ITRI are embarking on long-term cooperation to launch joint R&D of quality inspection technology for semiconductor materials. ITRI's advanced semiconductor nano-related detection technology in conjunction with Tokuyama's semiconductor chemical materials technology will pave the way for the development of state-of-the-art measurement technology for the semiconductor industry. He further expressed his hopes for the joint creation of a technology blueprint for even more advanced production process miniaturization to satisfy actual customer needs and raise the international competitiveness of Taiwan's semiconductor industry.
ITRI has been involved in the development of a wide range of measurement technologies for over 30 years, and it has been commissioned by the Bureau of Standards, Metrology and Inspection under the Ministry of Economic Affairs to operate the National Measurement Laboratory. Besides focusing on the traceability of measurements and standards, it is also dedicated to R&D in semiconductors, including the development of thin films, surface analysis, and particle measurement technology. ITRI has a wealth of experience in cooperation with industry, and its considerable R&D successes are satisfying the needs of the semiconductor industry in precision testing.
In addition to utilizing the expertise of Tokuyama in semiconductor materials, this cooperation will spur the development of even more advanced and sensitive measurement equipment, helping to bolster inspection services and reduce the risk of wafer contamination. These efforts, in turn, will assist manufacturers in launching next-generation miniaturized semiconductor production processes.