Novel Display Applications at Touch Taiwan 2021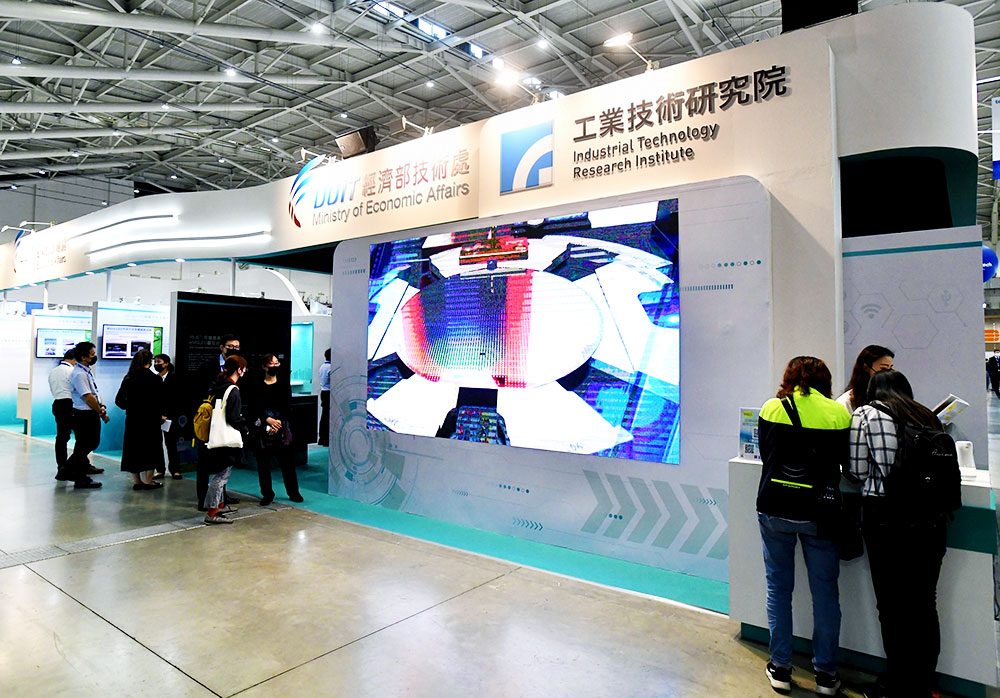 ITRI Pavilion at Touch Taiwan 2021.
ITRI has been working closely with industrial and research partners to develop advanced, high-value display technological applications and upgrade associated production processes. The latest R&D achievements and novel applications were showcased at Touch Taiwan in Taipei in late April. Highlights this year include a floating stereoscopic interactive system for a touchless elevator panel, a smart transparent car window that merges physical and virtual reality to display dynamic tourism information, a redistribution layer (RDL) integrated thin-film 5G filter and many more.
Dr. Chih-I Wu, ITRI's Vice President and General Director of the Electronic and Optoelectronic System Research Laboratories, stressed that ITRI has been dedicated to key enabling technologies for display manufacturing, which echoes the Ministry of Economic Affairs' development strategies. For instance, ITRI has developed Low Diffraction AM Micro LED Display Technology to improve the background visibility of transparent panels, with a diffraction intensity of less than 1% -- much lower than the current 30%-40% of most transparent displays. This offers advantages to the application of transparent displays such as in AR surgical information systems and smart windows of vehicles.
The other focus, according to Dr. Wu, is on the panel-level RDL technology. Compared to RDL lines on wafer substrates or PCB carriers, ITRI's panel-level RDL can control panel warpage during processing to 1%, and the line width and line spacing of thick copper conductors can reach 2 µm. This helps the integration of functional components. For example, RDL integrated communication filters can be applied to the packaging of 5G communication chips to meet the demand of thin and light circuit surface area. The panel-level RDL technology can also be applied to the driver circuit of micro LED display panels to increase panel design flexibility.
ITRI's Tech Highlights at Touch Taiwan 2021
Anti-Epidemic Floating Stereoscopic Interactive System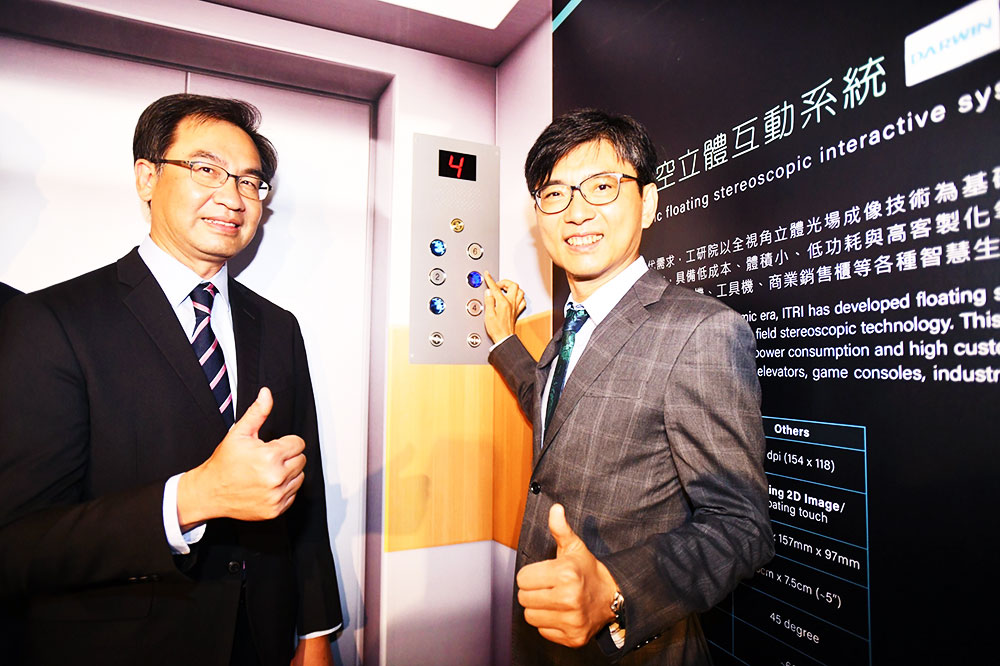 ITRI developed the Anti-Epidemic Floating Stereoscopic Interactive System to enable touchless control of elevator panels.
In response to the needs of the post-pandemic era, ITRI has developed the Anti-Epidemic Floating Stereoscopic Interactive System based on the full-view light field stereoscopic technology. This system has the characteristics of low cost, small size, low power consumption and high customization. It can be applied to various smart living applications such as elevator panels, game consoles, retail displays and industrial machine tools, creating a human-machine interface for contactless operation and control.
Comparison of ITRI's floating touch technology with a commercial counterpart.
Item
ITRI
Others
Image Source
~1,500 ppi
154*118 (~38 ppi)
Interactive Interface
Full-View Floating Stereoscopic Technology / Floating Touch
Floating 2D Image / Floating Touch
Bulky Size
79 mm x 79 mm x 61mm
237 mm x 157 mm x 97 mm
Image Size
(L x W x H)
35 mm x 35 mm x 35 mm
5" (2D)
FOV
60 degrees
45 degrees
Power Consumption
< 1 W
~60 W
In-Vehicle Transparent Display of Virtual-Real Fusion Smart Window
To enable smart cities and Mobility as a Service (MaaS), ITRI has developed the world's first transparent display of virtual-real fusion smart car windows. This smart window provides passengers with real-time and intuitive scene-fusion information, which enhances the user's experience in smart car cabins. The information fusion accuracy can reach 80%, with a fusion frequency of 30 FPS. This technology can be applied to the fields of smart mobility and smart edutainment.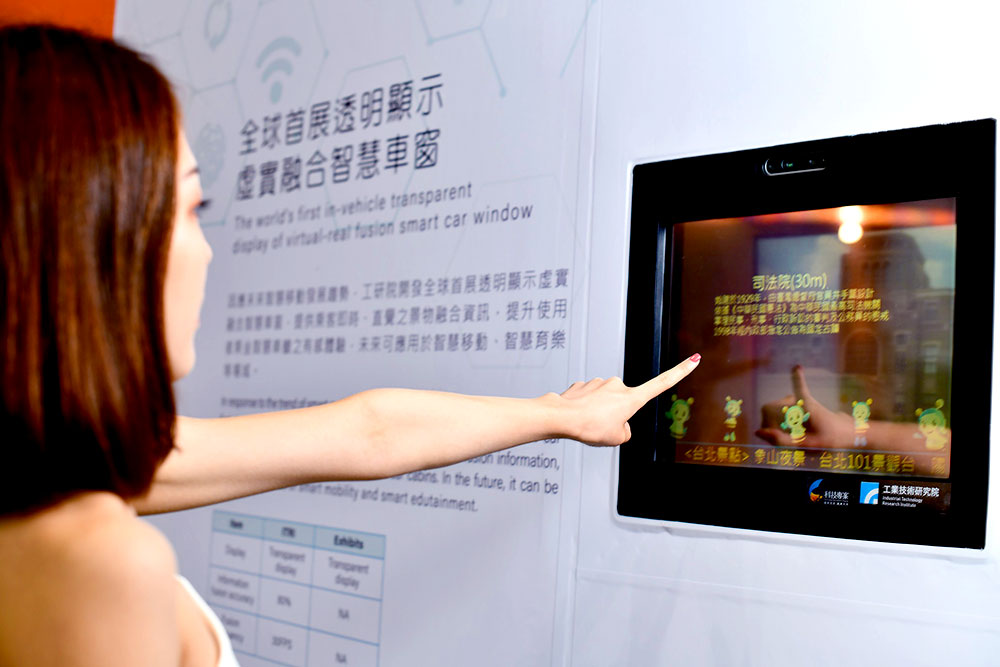 ITRI developed the world's first transparent display for virtual-real fusion smart car windows.
Functional RDL Integrated Thin Film Passive Device for 5G Filter Applications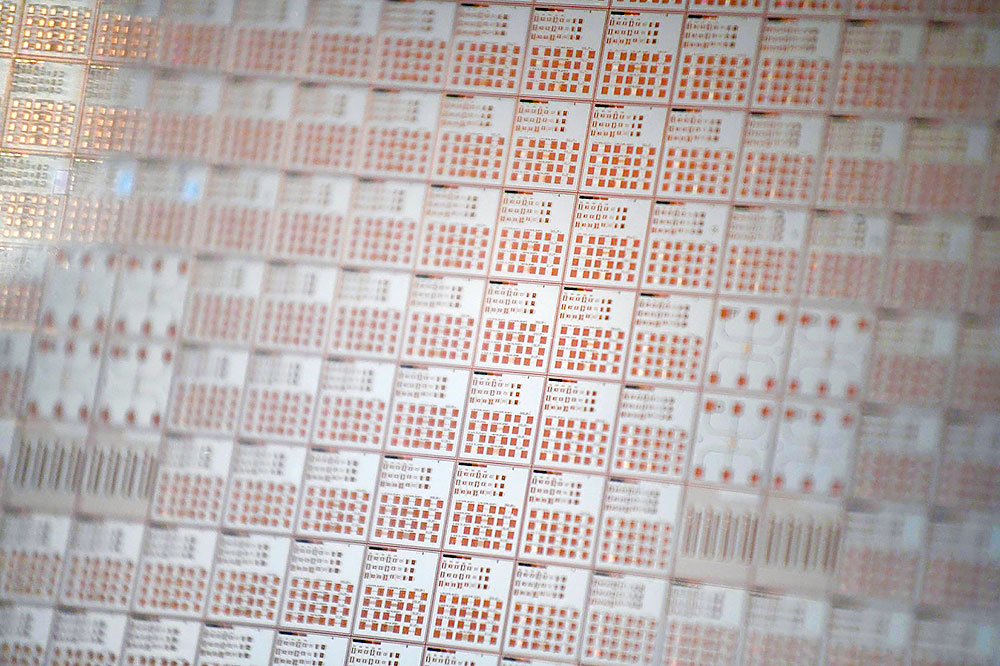 ITRI's RDL technology enables the development of film-type filters for 5G applications.
As the 5G era arrives, ITRI has developed a 3rd-order bandpass filter embedded in redistribution layers (RDLs) by use of panel level manufacturing. A thinner stacked circuit with size shrinkage can reduce the dimensions of the resulting 5G system module.
Comparison between ITRI's film-type filter and an LTCC filter.

| Item | ITRI's Film-Type Filter | LTCC Filter |
| --- | --- | --- |
| Band | N77 (3.3 -4.2 GHz) | N77 (3.3 -4.2 GHz) |
| Dimensions | 0.6 × 0.5 mm2 | 2.0 × 1.25 mm2 |
| Thickness | < 50 μm | 650 μm |
| Insertion Loss | <3 dB | <3 dB |