ITRI and Chi Mei Medical Center Transform Shipping Containers into Testing Lab
To meet the ongoing demand for COVID-19 testing in Taiwan, ITRI and Chi Mei Medical Center have joined hands in the establishment of a second high-throughput nucleic acid diagnosis facility for COVID-19 testing with the support from the Ministry of Economic Affairs (MOEA). The Prefabricated Negative Pressure Ultra-High Throughput COVID-19 Testing Container Lab was deployed this June at Chi Mei Medical Center's Yongkang branch in Tainan. The testing lab features three interconnected containers, two separate routes to maintain safe working flow, and a one-stop platform for COVID-19 testing. It provides services covering the whole process from sample collection to nucleic acid testing in a safe and qualified environment.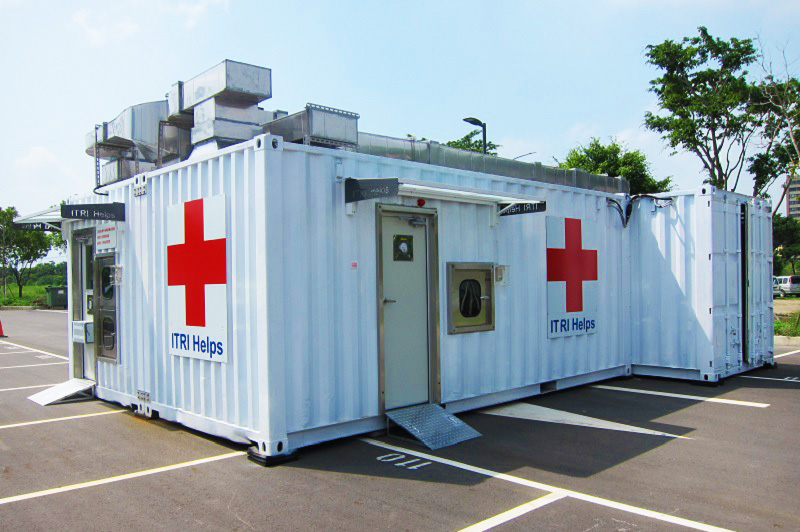 ITRI and Chi Mei Medical Center collaborated on the prefabricated container lab.
According to ITRI President Dr. Edwin Liu, the MOEA put its full support behind the research and development of projects for pandemic prevention technologies, including ITRI's development of positive pressure testing booths and other technologies in response to COVID-19. As Chi Mei Medical Center is one of the most important medical facilities in southern Taiwan and offers the largest hospital capacity in the Yunlin-Chiayi-Tainan region, Dr. Liu hopes that the equipment developed by ITRI will provide a one-stop service for sample collection and testing processes, while enhancing protection for medical staff.
Chi Mei Medical Center Superintendent Dr. Chung-Ching Chio commented that since the local outbreak in May, Chi Mei has performed over 23,000 nucleic acid tests. In response to possible cluster infections, Chi Mei has introduced a second set of high-throughput nucleic acid testing equipment and worked with ITRI on the creation of the Prefabricated Negative Pressure Ultra-High Throughput COVID-19 Testing Container Lab. The interior space fulfills the biosafety level 2 (BSL-2) laboratory specifications, and increases the number of daily rapid tests by about 1,000 people.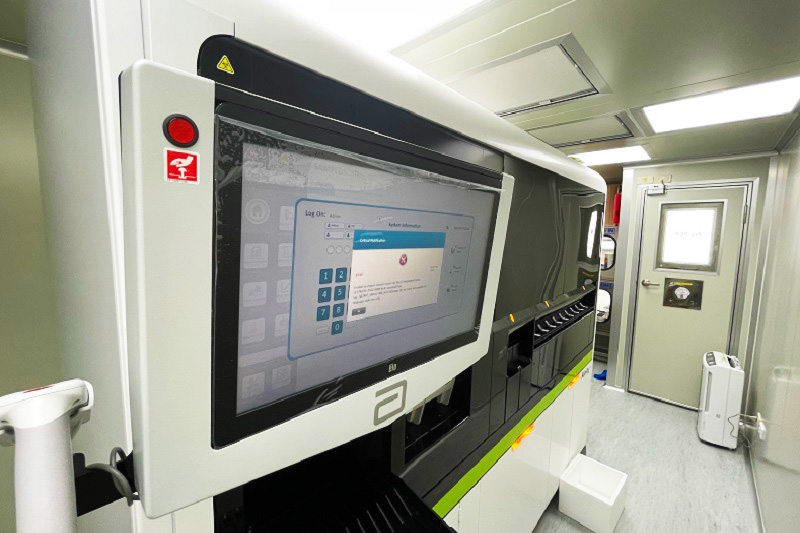 The container lab can increase the number of nucleic acid tests by about 1,000 people daily.
The ITRI team applied its experience of creating negative pressure wards during the SARS epidemic in the container design, with five primary features:
BIBO HEPA Filtering: A Bag-in/Bag-out (BIBO) HEPA filter system is used to purify the exhaust and provide clean air.
Class 10000 of air cleanliness: The testing lab is as clean as an operating room.
Negative Pressure Value ≧8 Pa: The BSL-2 negative pressure laboratory prevents the spread of pathogens.
Mobile Deployment: The container module can be quickly disassembled and assembled, making it suitable to be deployed on a temporary basis.
Independent Energy System: A generator-based power supply system, water purification system and wastewater reclamation system are included.
The mobile COVID-19 testing lab is built by the combination of three 20-foot containers. The interior includes a sample process area, a PCR operating area, a facility room, a buffer zone, and a clothes changing room. The medical staff enter the positive pressure buffer zone after changing clothing. They then go to the sample process and PCR operating areas. The one-stop testing service proceeds as follows. The testees have their samples taken in the positive pressure testing booth set up outside. After that, the specimens in transfer boxes are sent to the sample process area for examination avoiding cross-contamination and then to the PCR operation area for testing in the high throughput automated equipment. Medical staff are isolated at each step to reduce the risk of infection.