AI Robots Offer Outdoor Inspection Services for Substations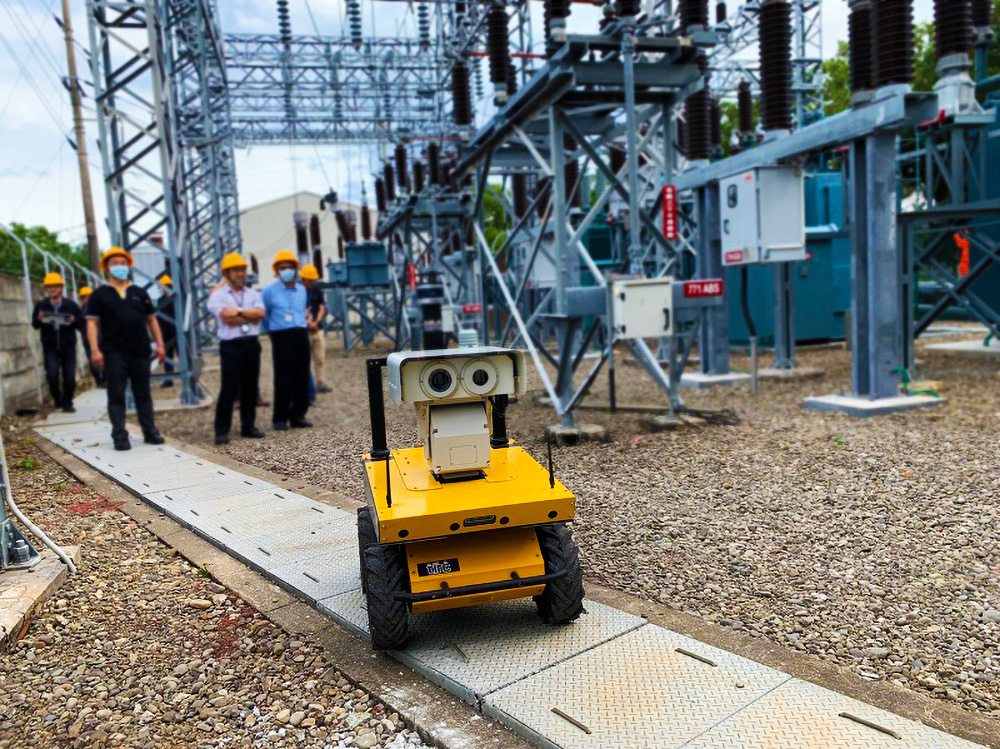 The AI outdoor inspection robot can conduct autonomous inspections at high-voltage substations, improving workplace safety and efficiency.
ITRI, Taiwan Power (Taipower), and Taiwan Intelligent Robotics Co., Ltd. (TIRC) have jointly unveiled an AI outdoor inspection robot that has already been put in use at Taipower's high-voltage substations, significantly boosting inspection efficiency and safety. These robots are expected to be rolled out in a wider number of areas, providing smarter services and ensuring safer working environments. Meanwhile, novel AI applications will accelerate the digital transition of industries and reduce the impact of an aging workforce.
Inspection robots in the past were typically non-autonomous robots. This meant that employees were required to operate remote controls during an inspection, while also manually documenting relevant information. ITRI, Taipower, and TIRC cooperated in developing an inspection robot which adopts an AI navigation module to boost efficiency and reduce the chance of error. All of the hardware and software of the robot was developed in Taiwan.
Dr. Shu Huang, Division Director of ITRI's Mechanical and Mechatronics Systems Research Laboratories, stated that the use of unmanned technology in inspections has continued to increase due to aging manpower and the impact of the COVID pandemic. The inspection robot incorporates a high-performance AI algorithm that uses only 25% of the processing resources of the robot's brain. This is a big break from traditional algorithms that utilized 65-70% of the robot's brain capacity. With more computing power available for use, the robot can calculate and respond to emergencies faster, while performing real-time inspection and capturing data. This is conducive to higher-value predictive diagnosis or big data information extraction, he said.
Taipower's Power Distribution Division Director Ming-Shu Chen remarked that substations are an important place for voltage conversion. Any equipment failure could result in large-scale power outages and heavy losses. Consequently, Taipower needs to dispatch personnel to conduct regular inspections, even in bad weather or in distant places. In recent years, he said, Taipower has actively promoted "smart inspections". To this end, the cooperation with ITRI and TIRC has enabled Taipower to successfully deploy AI inspection robots in substations. Based on an inspection schedule, the robots check capacitors, transformers, and other equipment to ensure safety. Using an AI learning inspection route, the robots can transmit imagery back to a central control room even as they are moving. This allows personnel to understand the situation on a real-time basis, following which related workers can be sent to the site to carry out maintenance as needed.
KT Huang, Chairman and General Manager of TIRC, pointed out that unlike most indoor and non-autonomous inspection robots, the newly developed robot has the ability to navigate on its own, making inspections easier and more routine-oriented. In the future, automated robot applications will be even more diverse, such as utilizing overhead robots and drones for inspections or the use of mobile video cameras or real-time image recognition detection to address blind spots in industrial safety.