Bi-Swivel Laser Cutting Module Technology
ITRI has collaborated with leading robotic arm manufacturer HIWIN Technology and Taiwan's largest laser tube cutting equipment maker SOCO Machinery on the development of Bi-Swivel Laser Cutting Module Technology. This module, the only of its kind made in Taiwan, is able to cut precise patterns on metal or other materials and can be used in manufacturing applications such as metal processing, tube cutting, or engraving. The technology made its debut at TIMTOS x TMTS 2022 in Taipei in late February, attracting the interest of many users and vendors.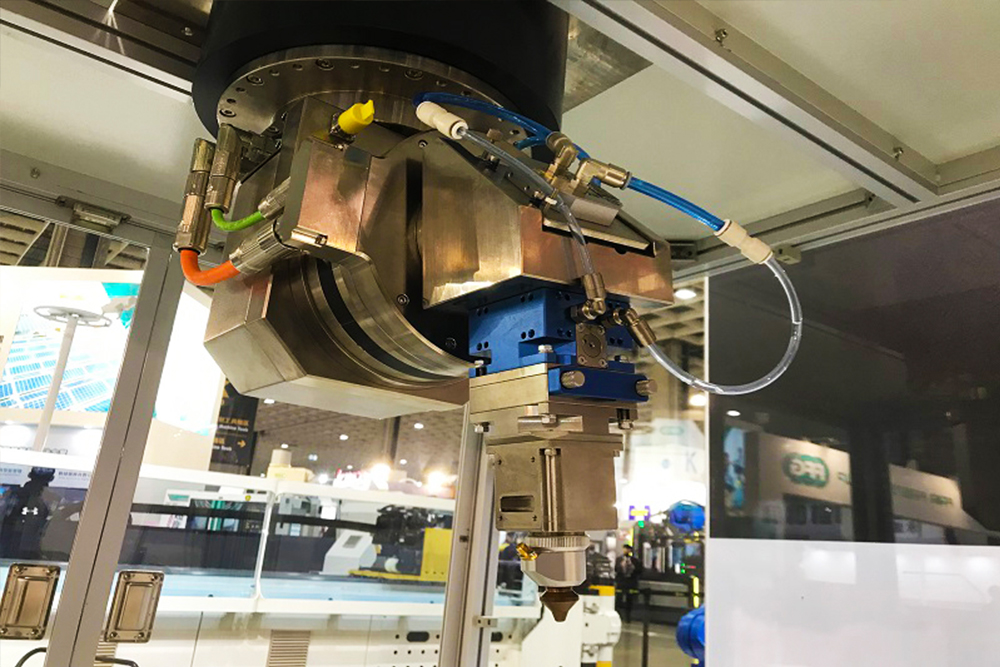 ITRI, SOCO Machinery, and HIWIN together debuted high-performance but cost-competitive laser cutting technology at TIMTOS x TMTS 2022.
Bi-Swivel Laser Cutting Module Technology involves adding two oscillating shafts to the laser cutting module. The optical mirrors of the oscillating shafts, in conjunction with HIWIN's Torque Motor Rotary Table, guide a high-power laser source of over 2,000 W in carrying out multi-degree-of-freedom oscillating cutting. The rotation axis does not have any angle limitation, and repeatability precision reaches +/- 0.0028 degrees.
Dr. Fang-Hei Tsau, General Director of ITRI Southern Region Campus, reiterated the importance of precision in laser processing as there is often a need to cut various irregular geometric patterns on composite materials. Just as there is a significant difference between writing using one's arm or wrist, the laser cutting machine also needs to rely on the oscillating laser processing head to function like a wrist that can move at all angles, thus enhancing cutting efficiency and quality.
SOCO Machinery Executive Assistant Joseph Lin states that most imported oscillating laser processing heads are cost-prohibitive. ITRI's laser optical module in combination with the torque motor rotary table of HIWIN's Bi-Swivel Laser Cutting Module Technology can cut costs in half by using domestically made components, thereby increasing the added value of products. He adds that this technology will be introduced to SOCO's laser 3D tube cutting machines and five-axis laser cutting machines, providing cutting technology to the highest specifications but at lower prices to laser equipment and machine tool manufacturers.
According to market research agency Mordor Intelligence, compound growth of about 13.76% is anticipated in the global market for lasers from 2022 to 2027. The Asia-Pacific market accounts for the largest and fastest growing segment of this market. Introducing this laser cutting module into the production process can greatly boost competitiveness for laser equipment and machine tool manufacturers. ITRI will continue to employ innovative technologies to assist industries in upgrading and transforming, while realizing the goals of smart manufacturing, energy conservation, and carbon reduction.