5G Applications in MR Drone Contest
ITRI and Compal Electronics have jointly developed a new generation of 5G drone technology. The unique characteristics of the dedicated 5G network technology were put on display in a drone racing competition at the Asia New Bay Area in Kaohsiung. The technology highlighted includes high-speed positioning of drones, 5G low-latency transmission video streaming, and mixed reality (MR) computing, along with commercialization verification.
Drone racing competitions have become an increasingly popular activity throughout the world in recent years. While the majority of these drone competitions currently only have physical obstacles, the competition held in Kaohsiung had drones fly at high speeds through both physical and virtual obstacles. In this MR drone competition, the pilot can see video streams sent back by the drone camera that is synchronized with the VR head-mounted device. This allows for a First Person View (FPV) while flying at high speeds, creating an even more exciting sensory experience via VR integration.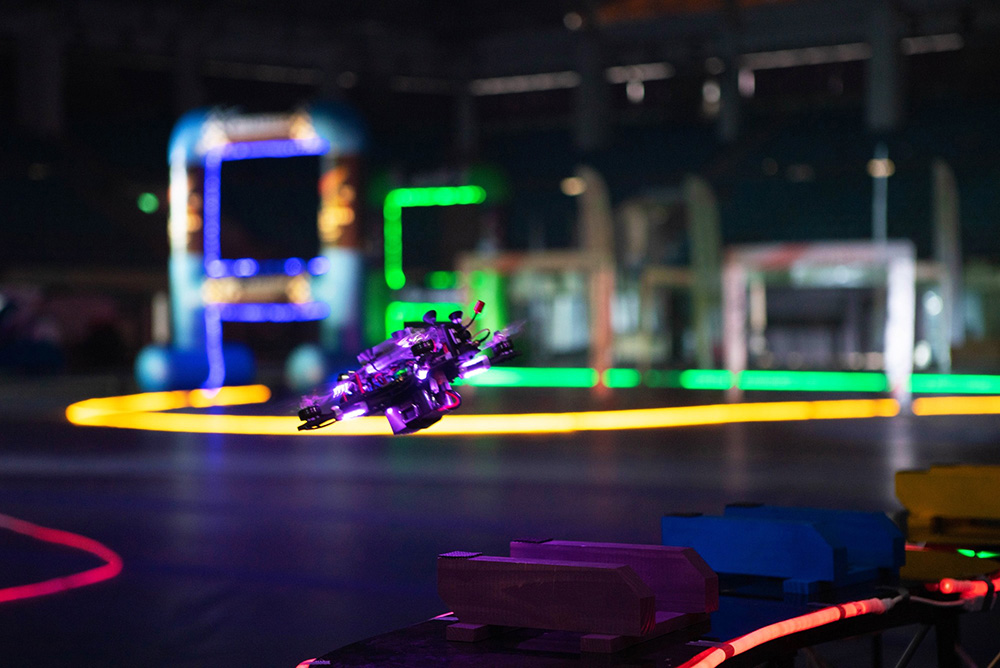 A drone flying through the LED-lit racetrack.
Dr. Pang-An Ting, General Director of ITRI's Information and Communications Research Laboratories, stated that the technology developed has two key features. First, development of a lightweight 5G camera and ultra-low latency digital image transmission technology compares favorably against traditional analog competitive drones. Image quality of the latter is only 300,000 pixels, whereas the new technology boosts image pixels to over two million, while transmission only takes 0.05 seconds. This creates a sensory experience with zero time lag. Second, the development of the 5G MR system's high speed drone positioning allows for stacking virtual objects in mixed reality, creating a flight course for drones to race through. This may even lead to the creation of new types of gameplay, such as player versus player shooting competitions.
The innovative applications developed for these 5G racing drones are expected to allow such competitions to imitate F1 racing, which sparked the thriving development of the auto industry, and thus promote the growth of drone software, manufacturing, subsystems, components, and peripheral industries. This will also generate business opportunities in live broadcasting, smart interactive entertainment, and simulation training. Given the future of 5G IoT, ITRI formulated the 2030 Technology Strategy & Roadmap that is funneling investment in the development of drone technology, and is creating a diversified array of applications in the field of Smart Living.