Golden Asia Fund III Set to Fuel Semiconductors, Green Economy, and Healthcare Startups
Industrial Technology Investment Corporation (ITIC), the fully-owned subsidiary of ITRI, and Mitsubishi UFJ Capital (MUCAP), the venture capital arm of the Mitsubishi UFJ Financial Group (MUFG), have jointly announced their 3rd cooperation in the establishment of a venture fund, Golden Asia Fund III, L.P. (GAF III), which has already successfully raised US$49.5 million.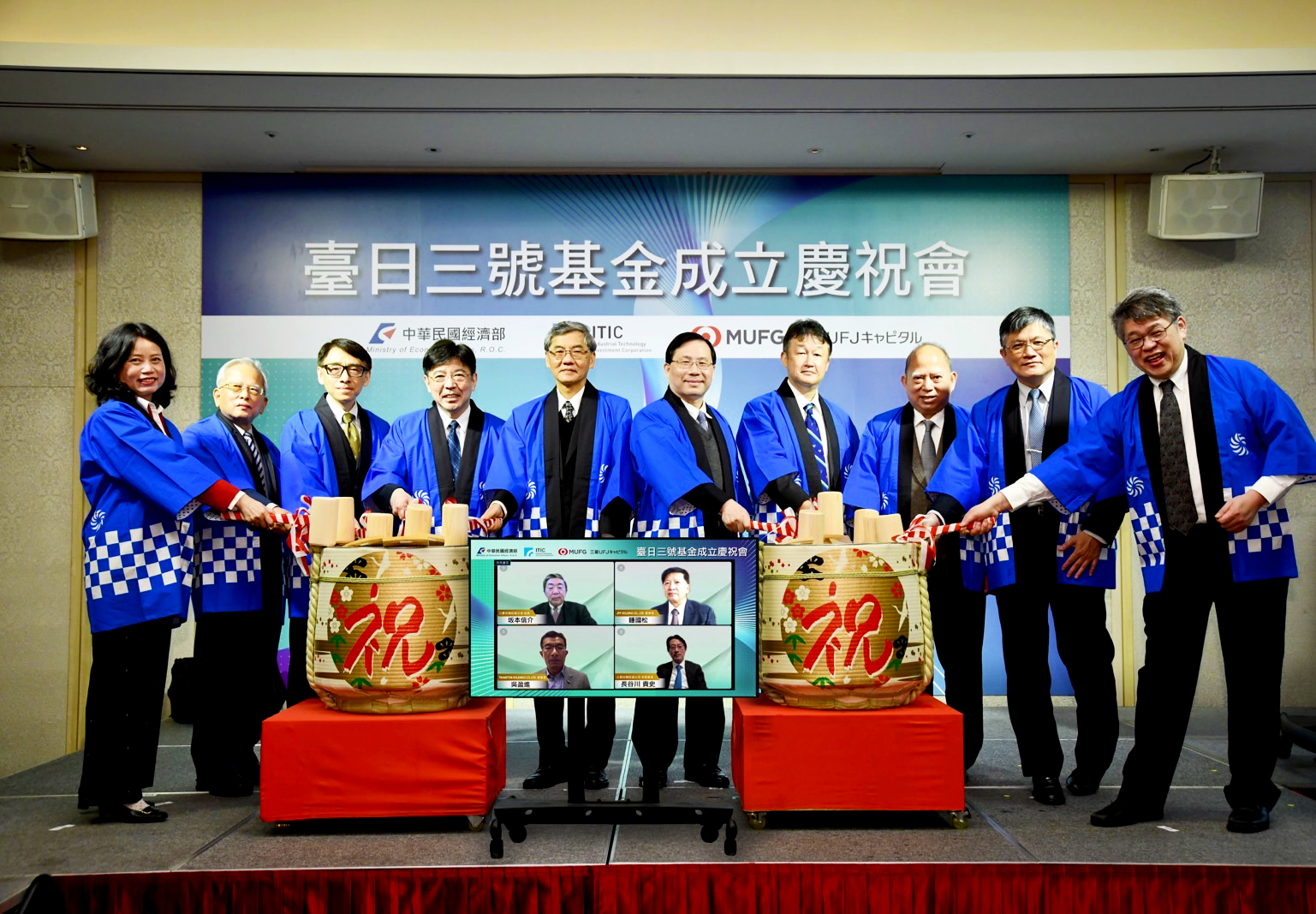 Representatives of limited partners from Japan and Taiwan celebrated the establishment of Golden Asia Fund III.
"Since its inception in 2011, Golden Asia Fund has validated the mode of bilateral collaboration built on a strong foundation of proven trust between ITIC and MUCAP. This proven investment platform has been continuously backed by reputable limited partners, and GAF III possesses and embodies the same virtues developed in GAF and GAF II. Our investment goes beyond capital to active company building at every stage, from seed to growth and beyond. Given the vast network of professional contacts, expertise, and extensive business connections of MUFG/MUCAP and ITRI/ITIC, GAF has the ability to grow equity investments through not only financial investment, but also strategic and operational support and to foster technological, marketing, production, and investment collaborations between Taiwanese and Japanese companies for global wins," said ITRI President and ITIC Chairman Dr. Edwin Liu.
As of today, GAF and GAF II have made investments in 22 firms in Taiwan and 20 in Japan. GAF believes that cross-border collaboration can nurture innovative spirit and increase the chances that startups will succeed. Among its inspirational stories of success, GAF facilitated a Taiwanese company that provides BLDC motor driver solutions and modules to cooperate with a world-class motor company based in Japan for the China/ASEAN markets; assisted an automobile OEM company providing aluminum forging components for vehicle chassis suspension systems to collaborate with a Japanese tier-1 automotive manufacturer; and supported a Japanese food tech startup that develops and produces plant-based meat ingredients to collaborate with a well-known food brand in Taiwan for the Taiwan and European markets.
Mitsubishi UFJ Capital President Shinsuke Sakamoto remarked that Taiwan and Japan are old friends and the bonds of friendship already forged should be carried forward for success. "Since the beginning of GAF III formation, I firmly believe that for a better future of Taiwan and Japan, the persistent efforts made by the Golden Asia Fund family must continue," he said.
While not constraining itself to specific sectors for investments, GAF III will explore three trends which it believes investors should prepare for in the next few years, including semiconductors, green energy, and healthcare, as well as other fields such as electric vehicles and precision machinery.
About the Golden Asia Fund

The Golden Asia Fund (GAF) is a vehicle established jointly by ITIC and MUCAP and managed by Golden Asia Fund Ventures Ltd., a Cayman Islands exempted limited company. GAF was initiated in 2011 to exploit the considerable industrial synergies between Taiwan and Japan, and to facilitate entry into fast-growing emerging markets. The GAF invests in and supports startups in a wide range of industrial fields and at various growth stages, acting as a bridge to link Taiwan and Japan.