Smart Process System for Advanced Semiconductor Thin Film Equipment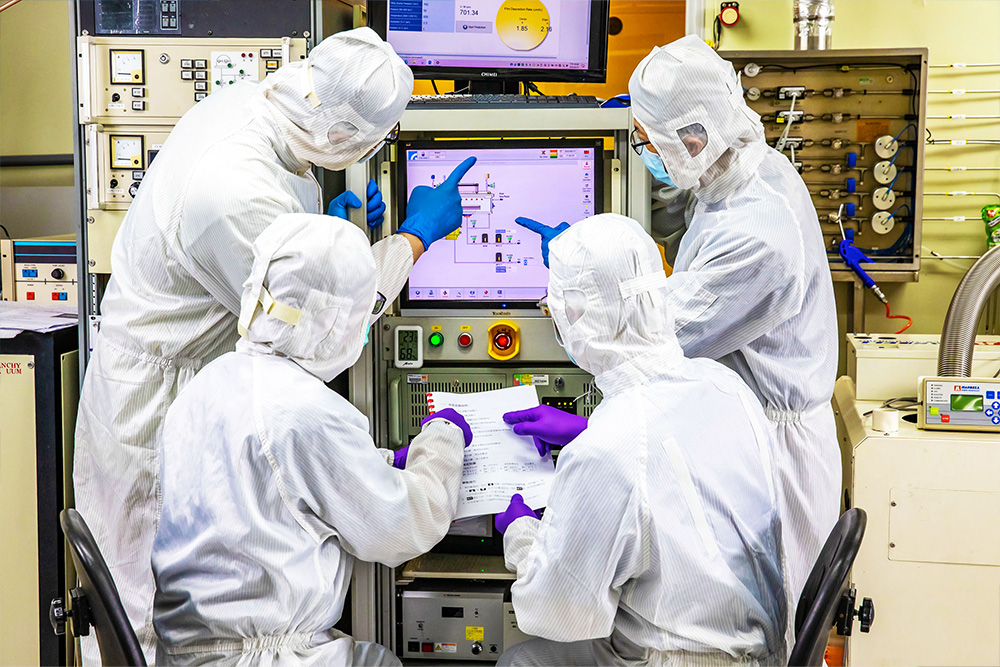 ITRI's system can significantly reduce the time needed to reach optimal thin film disposition process parameters.
Semiconductor fabrication starts with the deposition of extremely thin films on silicon wafers. Thin film deposition is heavily affected by parameters including pressure, flow, and temperature. With hundreds of potential combinations, the semiconductor industry relies on the operator's experience to find the best combination, which takes time and drives up costs. ITRI's Smart Process System for Advanced Semiconductor Thin Film Equipment was developed to simplify this process, using a digital twin that can rapidly simulate and find the best optimization parameters.
"Thin film chambers have too many variables, so a very stable state is needed to control all kinds of chemical and physical reactions," said Deputy Division Director Dr. Ching-Chiun Wang of ITRI's Mechanical and Mechatronics Systems Research Laboratories. "Thin film deposition can take anywhere from 10 minutes to 8 hours, which in the case of the most complicated scenarios, limits adjustments to two or three rounds per day if results are not satisfactory."
Comparison of Semiconductor Thin Film Process Development

| | Traditional Method | ITRI's Smart Process System |
| --- | --- | --- |
| Main Principle | Relies on experience and testing for manual adjustments | Introduces digitalization and parameter feedback for prediction correction |
| Accuracy | < 80% | > 95% |
| Process Repeatability Deviation | > 4% | < 2% |
| Adjustment Time | 1 week | 2 hours |
| New Product Development Time | 3 months | 1 month |
ITRI's Smart Process System alleviates these issues by simulating and analyzing thin film quality from different parameter settings. Engineers can simply input different combinations to predict the result, saving much time spent on trial and error.
Since semiconductor processes are often confidential and lack authentic data for AI training, ITRI's Smart Process System works from a small amount of data to build its analysis models and adopted a virtual-real fusion approach to create a realistic thin film deposition chamber. The system incorporates flow field visualization and plasma diagnosis functions to retrieve more feedback data, which can be utilized to further adjust the model and improve the accuracy of predictions.
This technology is a great help for semiconductor manufacturers to develop new products, which makes the optimization process less like finding a needle in a haystack.
Ching-Chiun Wang
ITRI Deputy Division Director
With optimal parameters from the Smart Process System, the adjustment period for thin film equipment can be reduced to two hours from the one week needed for manual tuning. Overall, it shortens development time for new products from three months to one. The repeatability deviation for each process can be lowered to less than 2% compared to more than 4% from a manual approach. Moreover, the system's predictions can achieve more than 95% accuracy, outperforming the 80% from manual experience.
According to Dr. Wang, the Smart Process System for Advanced Semiconductor Thin Film Equipment can bring three major benefits for the industry. First, it achieves accurate data-driven predictions to mitigate the reliance on worker experience and accelerate digital transformation. Secondly, it helps semiconductor equipment manufacturers upgrade their technology and create more value for their customers. Thirdly, the predictive simulations reduce material costs during process development, which responds to the net zero trend and ecures competitive advantages in the global market. The technology received a gold medal at ITRI's Outstanding Research Awards in 2022.