Amber Exhibition Features ITRI's Virtual-Real Fusion Technology
In the 1993 movie classic Jurassic Park, a mosquito preserved in amber was a key plot point for the film's story. At Taiwan's National Museum of Natural Science (NMNS) special exhibition "Amber: A Moment Buried En Resin," different amber specimens are displayed for visitors to observe, including various creatures preserved within the fossilized tree resin. The exhibition employs ITRI's High Clearness Transparent Projection Screen technology in conjunction with vision and gesture recognition modules, offering guests an interactive virtual-real edutainment experience.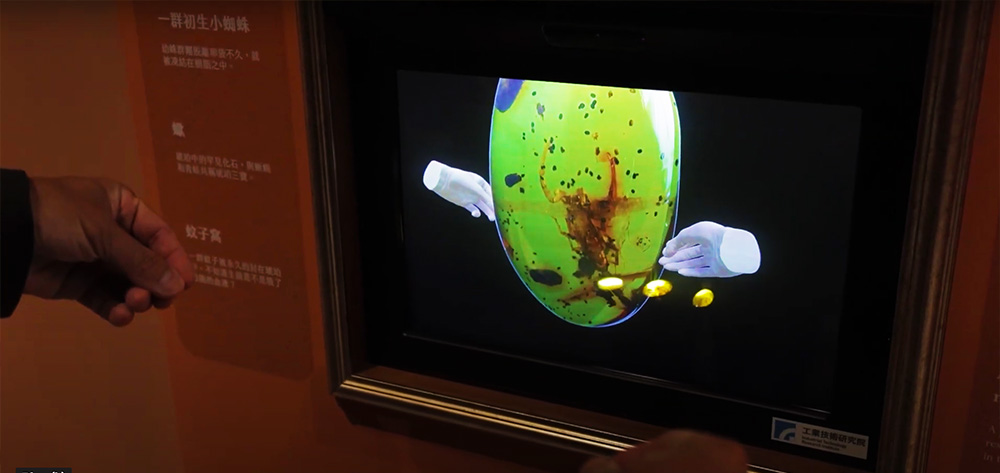 ITRI's High Clearness Transparent Projection Screen technology gives visitors a non-contact interactive experience for exhibitions.
ITRI developed the High Clearness Transparent Projection Screen based on advanced optical structural design on a transparent substrate. The transmittance achieves ≥ 80%, haze ≤ 10% and luminous efficacy of
≥ 1.2 nits/W. This technology can effectively scatter projected light on the surface of the screen and keep the background scene clear.
With augmented reality technologies and gesture recognition modules, ITRI's smart display system provides a vivid exhibition experience that allows visitors to interact with the exhibit intuitively. Via gesture control, visitors can grasp, hold, rotate, and enlarge the item in the air. This makes it easier to observe amber specimens and their contained animal or plant matters in detail as they are often small and difficult to see clearly. Visitors can have more fun than conventional exhibiting methods such as microscopes, magnifying glasses or display cases. Virtual interactions with the exhibits can also avoid possible item damages from the viewer's physical touch.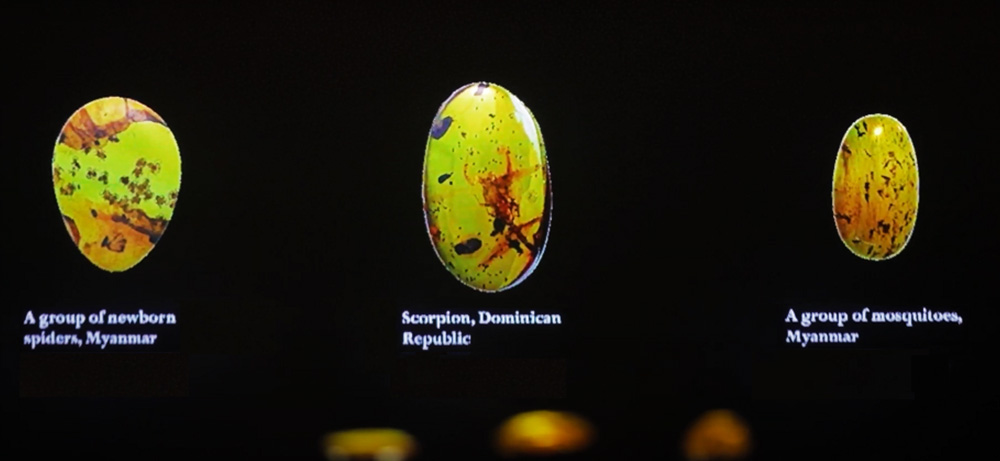 The technology allows visitors to learn about the exhibits in a more intuitive and instant way than conventional museums.
According to NMNS exhibition curator Dr. Yang Tzu-Ruei, ITRI's High Clearness Transparent Projection Screen is a breakthrough technology that opens up new possibilities for immersive virtual-real fusion exhibitions. Digitalization technologies can provide magnified and clear imagery for easier learning with intuitive features, giving visitors a chance to discover more about the secrets of natural science through smart edutainment.
Shih-Chieh Chang, General Director of ITRI's Electronic and Optoelectronic System Research Laboratories noted that the Institute has worked with industry to develop high value and innovative display technologies and perform field validation for its applications. From the collaboration with the NMNS, the High Clearness Transparent Projection Screen, when combined with face and gesture recognition, can provide visitors with an engaging mixed-reality experience, demonstrating the technology's potential for immersive applications.