A Hybrid Celebration for ITRI 49th Anniversary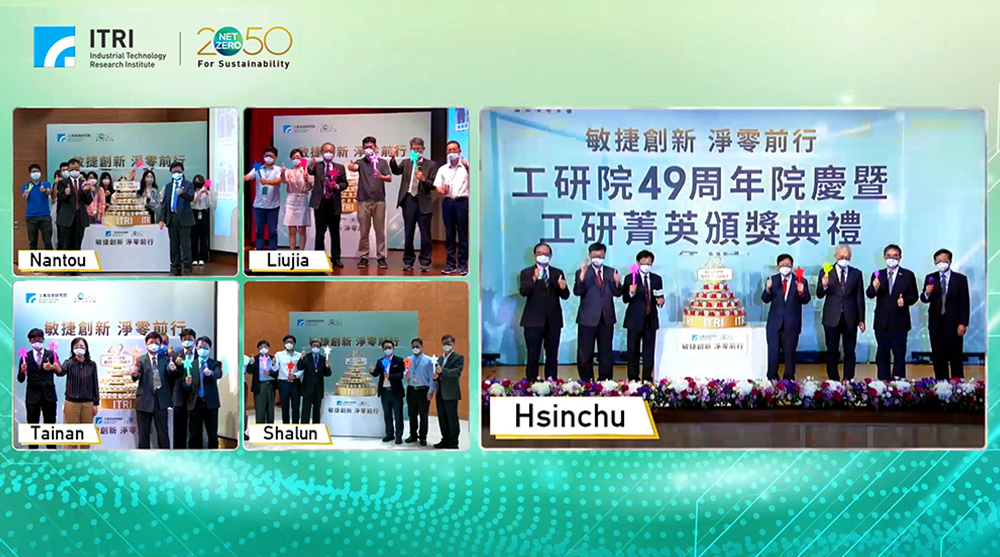 All ITRI campuses participated in the celebration simultaneously.
ITRI held a hybrid celebration engaging in-person and virtual cross-campus participation to mark its 49th anniversary on July 5. During this event, the Institute honored ITRI Elites for their excellence in R&D and service performances as well as their contribution to industrialization. It also showcased innovative multidisciplinary R&D results to demonstrate its efforts to reach the goal of net zero emissions by 2050.
Minister of Economic Affairs Mei-Hua Wang in her online opening remarks applauded ITRI for its innovation prowess, calling the Institute an important force in Taiwan's industrial upgrading and transformation. She stressed that the Ministry of Economic Affairs (MOEA) will continue to support ITRI in forging forward-looking technologies across multiple domains to achieve a net zero future. The low-carbon methanol development technology under an MOEA-sponsored R&D project, for example, can reduce carbon emissions in the production process by 2.1 million tons. "It is expected that ITRI will become a bridge in cultivating industrial talent and connecting global innovation networks to increase national competitiveness," she added.
ITRI Chairman Chih-Kung Lee remarked that the pandemic has ushered in changes to lifestyles and industrial development and that ITRI employees are responding to the new normal through innovation. He is proud that ITRI's R&D achievements have been recognized at the R&D 100 Awards and the Edison Awards. He also pointed out that ITRI is one of the only three R&D institutions in the world to be named a Top 100 Global Innovator in 2022.
ITRI has been able to adapt to the challenges of the pandemic thanks to innovative thinking, agile management, and open communication.
Edwin Liu
ITRI President
"ITRI has been able to adapt to the challenges of the pandemic thanks to innovative thinking, agile management, and open communication," said ITRI President Edwin Liu. He noted that a climate conducive to innovation and entrepreneurship has been created via corporate culture, competition platforms, and system design. New work models such as flexible work schedules, work from home rotations, and satellite offices become popular in recent years. The Institute has also promoted an open door policy to foster greater communication between managers and their staff.
As part of the celebration, net zero emission technologies covering the aspects of supply, manufacturing, demand, and environment were showcased at ITRI's six campuses and 10 research bases. One exhibit is a biomass PEF polyester material that can be applied to food packaging or textiles. This eco-friendly plant-based solution features 10 times higher oxygen barrier capacity than PET materials and can reduce carbon emissions of raw materials by 67%.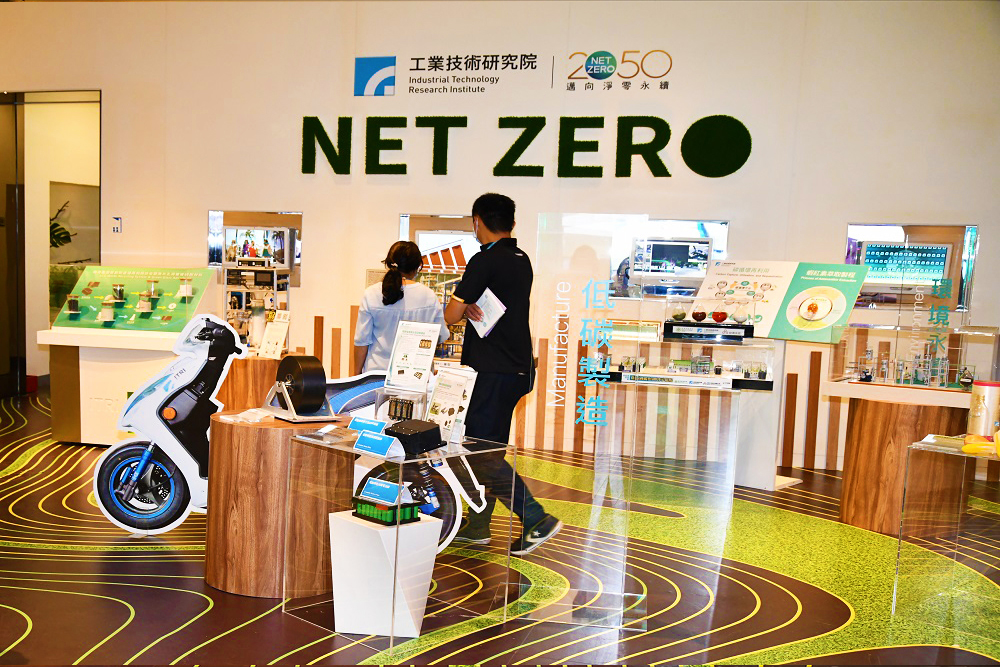 Exhibits of ITRI's net zero technologies were showcased on various campuses as part of the celebration.
In its 49th anniversary, ITRI reaffirmed its commitment to assisting industry in the transition towards net zero. It is hoped that through innovative carbon reduction technologies and services, industrial partners can stay sustainable and competitive, while securing an advantageous position in the green supply chain.