World's First Rotating Lab for Subtropics Opens
SPINLab, jointly built by ITRI and National Cheng Kung University (NCKU), was launched in Tainan in December 2020. It is the first rotating testing facility for green building technology in the subtropics. Featuring the ability to simulate different building orientations, the Lab allows researchers to observe the effects of different solar azimuth angles on buildings and test the performance of assorted building materials and equipment. A common reference standard can be established for comparing actual experiment results with theoretical calculations.
Dr. Ren-Chain (Joseph) Wang, ITRI's Vice President and General Director of Green Energy and Environment Research Laboratories, highlighted SPINLab's two major functions: First, it can be used to accumulate experimental data and set up a database for architecture design, materials, and equipment, offering practical evidence for green building and energy certification regulation revision. Secondly, the Lab provides one-stop testing services for green building products and can help their marketing to Southeast Asia, which shares the same climate as Taiwan.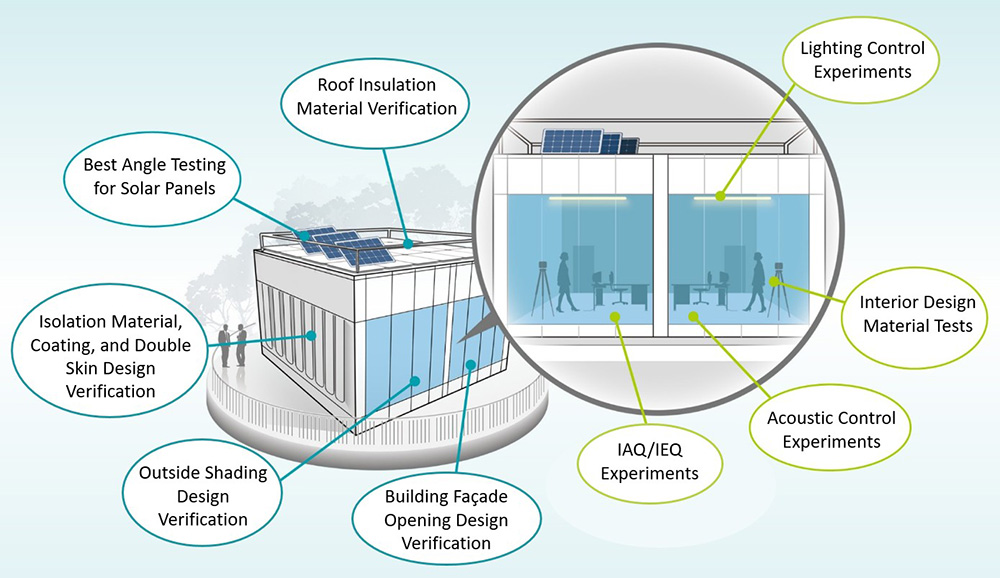 Indoor and outdoor verification provided by SPINLab.
This platform can carry out tests such as construction methods, building materials, air conditioning, artificial and natural lighting, air quality, ventilation, shading, heat isolation, and energy management and control. By simulating different building orientations to create tailor-made testing conditions, SPINLab becomes the only lab among all subtropical areas that provides manufacturers with empirical data on the performance of their energy-efficient technologies and products for buildings.
Dr. Cheng-Wen Wu, Executive Vice President of NCKU, remarked that his university started R&D collaborations with ITRI in 2018 and completed the rotation mechanism and diagnosis equipment for SPINLab in 2019. It was not until 2020, when they completed the integrated testing for the Lab's external and internal measuring components and equipment, that the entire facility was accomplished.
Currently there are only three rotating building technology labs in the world: ITRI's SPINLab, Lawrence Berkeley National Laboratory's FLEXLAB (opened in 2014), and the Singapore Building and Construction Authority's SkyLab (set up in 2016). While the latter two focus on testing green building technologies in temperate and tropical climates respectively, SPINLab presents its features and testing ability specifically for the subtropical climate. ITRI will be thrilled to see SPINLab collaborate with its US and Singapore counterparts to leverage each other's strengths and propel advancements in green building energy-saving technology.