MetabColor: The Eco-Friendly Microbial Dye Technology
ITRI's innovative microbial dye manufacturing process, MetabColor, won a silver medal at this year's Edison Awards in the Engineering & Materials Science: Primers, Coatings & Dyes category. Unlike synthetic chemical dyes that contain carcinogens and may cause environmental and health hazards, MetabColor's microbial-based dyes adopt non-toxic material and an eco-friendly production process aiming to counter the drawbacks of traditional chemical and plant dyes.
Researchers of MetabColor modified microbes and developed unique fermentation, separation, and purification processes to create natural dyes. The bio-based dyes are available in five colors (blue, red, yellow, brown, and black), with the proprietary MetabColor Black being the world's first black dye that eliminates the process of mixing concentrated color dyes.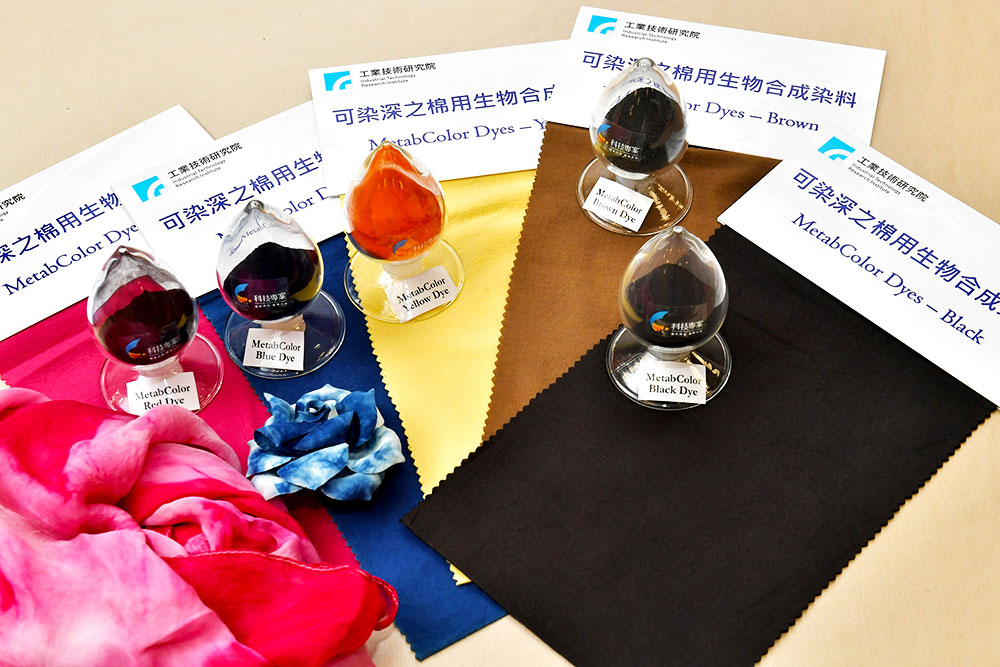 The MetabColor dyes come in five colors, including the world's first black dye that does not require color mixing.
While other microbial dyes currently in the market are limited to the color blue, ITRI has engineered unique metabolic pathways for MetabColor, enabling the bacteria to produce red, yellow and blue dyes, which are then mixed to create dyes of various colors. This sustainable microbial dye production technology provides the textile industry with an alternative to the polluting chemical dyes or scarce/expensive plant dyes. Moreover, it exhibits brilliant color strength and fastness on fabrics, making it a high-value and cost-effective system for textile manufacturers.
Our technology features microbial carbon source utilization and modifies microbial strains to produce natural dyes," said Jing-Wen Tang, Division Director of ITRI's Material and Chemical Research Laboratories. "As the dye production process is non-toxic, there are no health hazards. Moreover, the process has higher efficiency and significantly reduces wastewater discharge, homing in on the global trend of achieving net zero carbon emissions.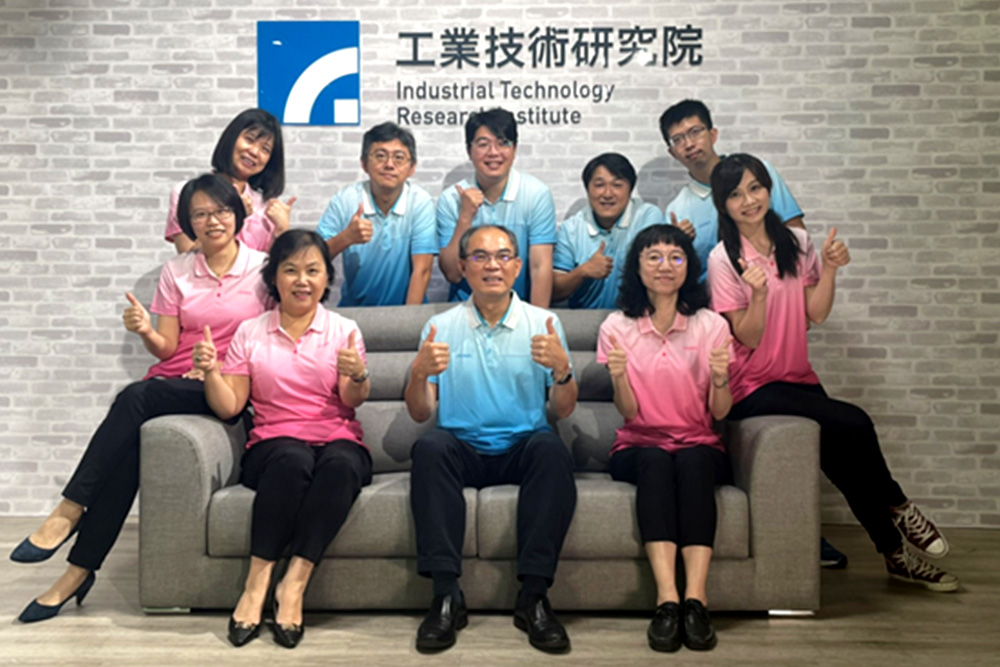 Dr. Tzong-Ming Lee (front center), Vice President and General Director of ITRI's Material and Chemical Research Laboratories posed with the R&D team of MetabColor.
Patents have already been filed for the dye producing strain design, dye formulas, and related eco-friendly textile dyeing methods, enhancing the overall value of the technology. More importantly, MetabColor dyes and its manufacturing process comply with international legislation requirements such as ZDHC and REACH, which helps manufacturers enter the global market with a cutting-edge advantage as a green supplier.
ITRI is already working with Eclat Textile Company and JINTEX Corporation, OEM of global leading apparel brands, on empirical testing and verification of MetabColor products. This collaboration has entered the trial production stage, which will strengthen textile applications and accelerate the time-to-market of these microbial dyes.
What impact can MetabColor bring about ultimately? MetabColor has the potential to facilitate a comprehensive eco-friendly dye supply chain. By applying this technology, it is believed that we can resolve the challenges of textile dye pollution caused by the fast fashion industry and thus enhance environmental sustainability.