ITRI and Four Other Recipients from Taiwan Honored as Top 100 Global Innovators
MOEA Minister Mei-Hua Wang (center) attended the award ceremony to congratulate the five Top 100 Global Innovators from Taiwan.
On April 20, Clarivate held an award ceremony to honor its Top 100 Global Innovators 2021 from Taiwan, including the several-time winners ITRI, Foxconn, Quanta Computer, and the first-time winners ASUS and Kinpo Electronics. The number of the Top 100 Global Innovators from Taiwan hit a new high, ranking third in the world.
With the support of the Ministry of Economic Affairs (MOEA), ITRI stood out among 14,000 institutions worldwide, gaining a place on the list that only 0.7% of these institutions achieved. ITRI has made the Top 100 list for the fifth time, making it the most awarded among Taiwan innovators and Asian research institutions. Over the past five years, ITRI has licensed its patents to over 915 companies/times. Its almost 5,000 patents have assisted Taiwan industry in protecting their R&D innovations, securing business opportunities, and obtaining access to the global market.
Clarivate Vice President Rob Davey in a recorded video remarked that since 2012, the Top 100 Global Innovator report has identified organizations at the very pinnacle of the global innovation landscape. "2020 was an unprecedented year and one full of unexpected events. We're very pleased to see an increase in the number of Taiwan-based organizations that have made it on to this year's Top 100 Global Innovators list. It highlighted the way that organizations such as those in the Top 100 Global Innovators can succeed and lead the way even in the most difficult times, with a steadfast and resilient focus on innovation," he said.
The Top 100 Global Innovators 2021 report showed that ITRI has excellent R&D quality and strong influence on industrial innovation. In recent years, ITRI's efforts to strengthen patent globalization have begun to bear fruit. Its patents feature three main characteristics: 1) High Innovation: 98% of its patents are invention patents; 2) International Deployment: The number of foreign patent applications is nearly double that of domestic applications; 3) High Patent Quality: ITRI has received a large number of citations in its US patents, suggesting its strong patent influence.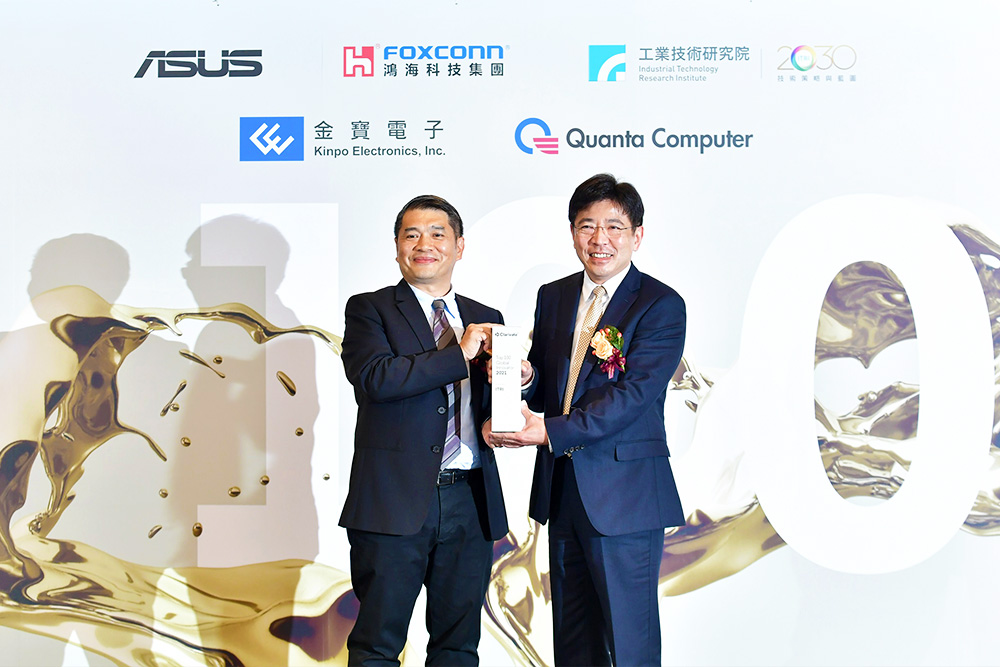 ITRI President Edwin Liu (right) accepted the Top 100 Global Innovator 2021 trophy from Nathan Fan (left), General Manager of Clarivate in Taiwan.
ITRI President Edwin Liu remarked that intellectual property rights are an important link in national competitiveness, and how to best utilize patents to enhance enterprise value is a pressing issue. ITRI, he said, engages in a two-pronged strategy to assist Taiwan industry to gain advantages and seize business opportunities. First, it activates patents, and to date ITRI has a total of over 17,000 valid patents. In order to allow these patents to be effectively used by industry, ITRI actively promotes links between the capital market and the technology market. The Small & Medium Enterprise Credit Guarantee Fund of Taiwan and 26 banks are promoting the valuation of intangible assets and technology value-added financing so that startups can use patents to obtain financing and develop new businesses, consequently boosting the value of innovation. Secondly, ITRI strengthens R&D, deploys key preliminary patents, and assists industry in advancing the use of these patents. "ITRI, as a pioneer in industrial technology, will keep innovating and engaging in early key patent deployment for potential and trending technologies to stay competitive in the forefront," said Dr. Liu.
This year is the 10th edition of the Top 100 Global Innovators, which honors companies and institutions at the top of the global innovation landscape for their efforts in contributing new ideas, solving problems and creating new economic value. The Top 100 Global Innovators are recognized for their excellent patent performance across four criteria: volume, success, globalization and influence. Winning this award represents outstanding effort not only in the quantity of filed patents, but also success in obtaining granted patents, breadth of filing of inventions, and external citations.