ITRI to Exhibit Innovations in AI, Robotics, ICT, and Health Tech at CES 2022
CES® 2022 will return as a live event in Las Vegas from January 5 to 8, 2022, and we are thrilled to announce that ITRI will once again participate in this influential tech event! ITRI will be participating in both physical and digital exhibitions, and invites you to visit its online venue at https://event.itri.org/ces2022/ or to come see us in person at Booth 9513, LVCC, North Hall, Las Vegas during the trade show.
Three of ITRI's technologies have already been named as CES 2022 Innovation Award Honorees this year:
The RGB-D AI Robot, which is the first collaborative robot that integrates a smart 3D vision module as a built-in standard for high-precision object recognition and pick-and-place operation.
iPetWeaR, a wearable device for pets that tracks health data including heart rate, respiration, and activity, and alerts the pet guardian of abnormalities.
All-in-One Thermal Sensing System, which enables high-precision remote detection of vital signs and patient activities.
Other highlight technologies from ITRI include the Autonomous Selfie Drone, which flies itself into position to take the best picture based on common photography techniques; the Interactive Time Machine, which creates a unique real-time 3D interactive avatar and experience combining a user's motion, 3D model, and display; and the PoseFit muscular functional screening mirror, which measures muscular strength, flexibility, and imbalances and provides a personalized and actionable exercise plan.
In addition to the highlights, ITRI will also exhibit other technologies in AI, robotics, ICT, and health tech. To learn more, we welcome you to enjoy our website and upcoming virtual pavilion for CES 2022, and hope that we can explore new opportunities for technical and business collaboration together. See you soon!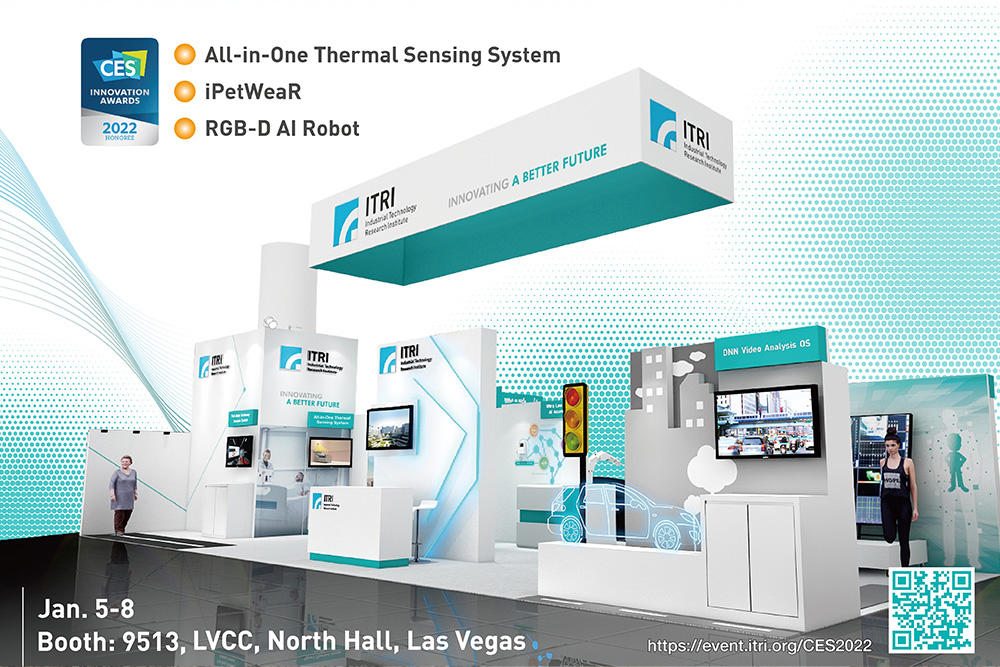 ITRI returns to the CES 2022 physical exhibition in Las Vegas and also welcomes all to visit its digital venue online.