Gold Winner for Marketing Material at NYX Marcom Awards 2021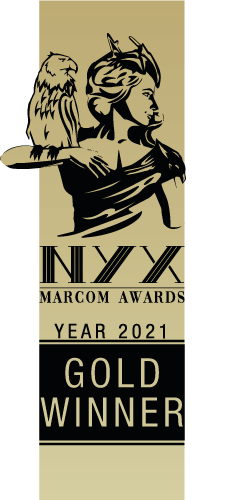 It is thrilling to announce that ITRI TODAY has just been named a Gold winner of Content Marketing & Writing - Marketing Material by NYX Marcom Awards 2021! The program is a global competition hosted by International Awards Associate (IAA) to recognize creative excellence in marketing and communication campaigns that transcend intercontinental barriers.
"We're honored and inspired to receive the NYX Marcom Awards. It's been our pleasure to see readers discover their business and R&D interests via reading ITRI TODAY," said the ITRI TODAY editorial team.
According to IAA, the 2021 NYX Awards received more than 1,000 submissions from over 50 countries worldwide, but only a few emerged victorious. "We are truly inspired by all of the astounding entries this year, as they exceeded our expectations," said Kenjo Ong, CEO of IAA.
Winning in Marketing Material at the NYX Marcom Awards means that the publication has good quality of content, copywriting, and design, and is effective in achieving marketing and communication goals. As ITRI TODAY Publisher and ITRI President Dr. Edwin Liu stated, the publication is committed to creating a communication channel between ITRI and global partners, with the aim to get connected with tech communities, industries, and markets, and to seek further linkage and collaboration.
"We're honored to be a winner of the NYX Marcom Awards, and it's been our pleasure to see readers discover their business and R&D interests via reading ITRI TODAY. Stay current with us! We'll continue to provide stories that spark more innovations."
ITRI TODAY Editorial Team
"It is our great honor to receive a NYX Marcom Award, and we are more than happy to share the joy with all of our readers," said June Lin, Editor-in-Chief of ITRI TODAY and General Director at Office of Marketing Communications, ITRI. "It is never easy to promote industrial technologies, especially those that are intangible and complicated. We have been trying to communicate with our target audience in a more engaging way." She emphasized that ITRI TODAY has been active in enriching story perspectives (from editors, C-level experts, and frontline researchers) and leveraging the advantages of digital marketing to enhance communication effectiveness and impact.
In its over 26 years of history, ITRI TODAY has served as a key marketing material that links ITRI with international communities. The current digital format makes ITRI TODAY even more vivid and accessible. Every quarter, it gives a quick glimpse of ITRI's critical progress by providing a dozen articles, each containing a 3-5 minute read. Subscribers from across the world can get the latest updates of the Institute's activities via monthly email newsletters for free. They can find the material easy to access, digest and share due to the informative writing style, multimedia-aided content, and mobile-friendly design. Most importantly, readers with inquiries are always welcome to offer their feedback for discussion and interaction.